The WVDXC Contest Corner
Moderated by Andy, KE7AUB
Each year the Willamette Valley DX Club engages in the the chase for Pacific Northwest Traveling Trophy. The Western Washington DX Club, Orca DX Club, Spokane DX Association with the Idaho DX Association and British Columbia DX Club are all involved in this endeavor.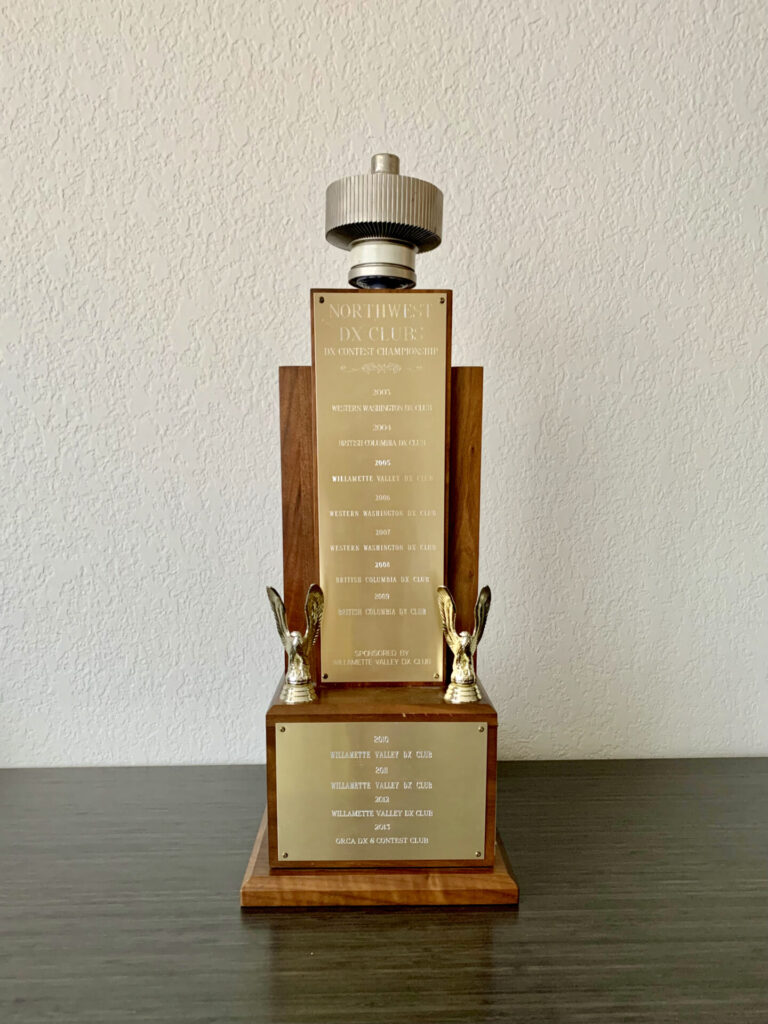 There are 10 contests whose point totals count toward determining the winner of the Traveling Trophy.
CQ WW RTTY: September 23 2023, 00:00 UTC – September 24 2023, 23:59
CQ WW SSB: October 28 2023, 00:00 UTC – October 29 2023, 23:59 UTC
CQ WW CW: November 25 2023, 00:00 UTC – November 26 2023, 23:59 UTC
ARRL RTTY Roundup: January 6 2024, 18:00 – January 7 2024, 23:59 UTC
ARRL International DX CW: February 17 2024, 00:00 UTC – February 18 2024, 23:59 UTC
CQ WW WPX RTTY: February 10 2024, 00:00 UTC – February 11 2024, 23:59 UTC
ARRL International DX SSB: March 3 2024, 00:00 UTC – March 4 2024, 23:59 UTC
CQ WW WPX SSB: March 30 2024, 00:00 UTC – March 31 2024, 24:00 UTC
CQ WW WPX CW: May 25 2024, 00:00 UTC – May 26 2024, 23:59 UTC
IARU HF Championship: July 8 2023, 12:00 UTC – July 9 2023, 12:00 UTC